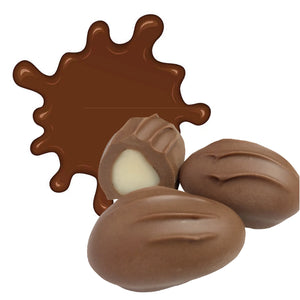 Misshape Milk Chocolate Brazil nuts (2.75Kg)
Oops!  Sometimes not everything is as perfect as we would like and we occasionally have some misshapen stock!
Beech's luxurious Milk Chocolate Brazils are made in our Lancashire Chocolate Factory, with whole nuts of the highest quality sourced directly from South America. All our Brazil nuts are packed and sealed in South America before being shipped to the UK to ensure freshness and flavour are fully maintained. The Brazil nuts we source are not panned like the mass-produced versions of chocolate brazils on sale, instead, every nut double enrobed in Beech's luxuriously smooth Milk Chocolate.
This box contains some misshapen product and they may be stuck together while travelling down our production lines!  They are perfectly fine to eat and offer great value for money!